Investing in Asia-Pacific
Summary
Coutts explores how Asia-Pacific's economic growth and diverse range of investment opportunities is attracting investors seeking long-term returns.
4 min
read
Coutts portfolios are positioned to take advantage of attractive valuations, the potential for earnings growth and good cash flow of companies in the Asia-Pacific region.

A rich variety of opportunities
It is difficult to think of another part of the world that provides the diversity of investment opportunities available in Asia-Pacific. That is because the region consists of so many different countries from developed nations like Australia, Hong Kong, Japan and Singapore to emerging markets like China, the world's second-largest economy. It can also offer exposure to frontier markets such as Cambodia and Vietnam.
Asia-Pacific's share of world GDP continues to grow and the region already contributes more to global growth than either the US or Europe. This trend of economic power shifting eastwards is likely to continue, giving a compelling image of the long-term prospects for the region's relatively small and underdeveloped equity and bond markets.
Since its financial crisis in 1997, Asia-Pacific has transformed itself radically. Countries have implemented market reforms and promoted the private sector, resulting in strong growth and stable currencies. They are now home to some of the world's most dynamic businesses across technology, manufacturing and outsourcing as well as thriving telecoms and infrastructure industries.
Coutts portfolios invest in the region through funds specialising in Asia-Pacific and separately through funds focused on China. In addition, our positive view on emerging markets includes some of the Asia-Pacific nations. This all adds up to a small but significant overweight to Asia and Pacific Rim companies compared to our strategic asset allocation.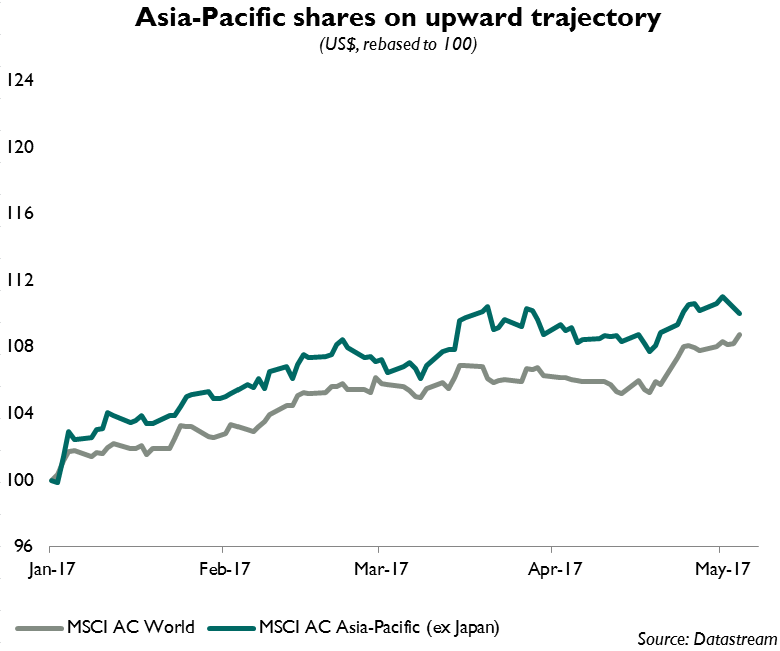 Seeking Growth and Income
The region has become popular with investors seeking growth and a source of income. Asian companies have been increasing their dividend payments over the past few years as they focus on delivering shareholder returns. However, income opportunities are not limited to equities, with many Asian corporate bonds also offering attractive yields.
While developed nations can work as the foundation of an Asia-Pacific investment portfolio, emerging countries offer the potential for even higher returns. Although in the past growth has been driven by exports, increasing domestic demand from wealthy middle classes with more money to spend is gaining ground. As a result, sectors such as banking, housing and retail also offer valuable opportunities.
At Coutts, we think that Asia-Pacific equities represent good value compared to historic values in the region. Some commentators are pointing to potential 20% earnings growth in the next few years and free cash flow is expected to double by 2018, which could lead to higher incomes.
We prefer to gain exposure to the region through specialist actively managed funds. They use bottom-up investment processes to identify companies that are well-managed, and with the competitive position and vision to grow their earnings well into the future. Clear financial reporting is another important factor to consider, which is often lacking in many companies across Asia.

A Bright Outlook
Asia-Pacific faces a variety of headwinds. They include:
relatively weak demand and slowing global trade
the possibility of faster-than-expected interest rate hikes in the US
the rise of protectionism following President Trump's withdrawal from the Trans Pacific Partnership
rapid credit expansion and high levels of debt in several East Asian countries
The region is particularly sensitive to China's economic transition to a more sustainable pace of growth, which is creating both opportunities and challenges for its neighbours. As external demand remains relatively subdued and global financial conditions continue to tighten, domestic demand is expected to be a substantial driver of activity across most of the region.
Asia-Pacific's markets can suffer periods of volatile performance, which is a significant risk. Yet these countries have demonstrated they can be highly effective in implementing reforms, including fostering economic and trade diversification. The outlook remains bright and for investors with the patience and ability to take a long-term view, the region can provide an attractive source of returns.
About Coutts investments
With unstinting focus on client objectives and capital preservation, Coutts Investments provide high-touch investment expertise that centres on diversified solutions and a service-led approach to portfolio management.
Discover more about Coutts investments