Technology is one of the seven investment themes for 2017 that we identified in our Investment Outlook. After a good year in 2016, earnings growth potential and relatively attractive valuations underpin our continued confidence.
The technology sector underperformed broader equity markets following last year's US elections owing to uncertainty around key policy issues such as immigration and global trade. However, the mood soon improved after President Trump held positive talks with US technology leaders and appointed key industry figures to his Strategic and Policy Forum.
More recently, earnings results for the fourth quarter of 2016 have been mostly encouraging. Sector earnings are up 10.5% from the same quarter last year, compared to 5.4% growth from the S&P500 as a whole. Almost 90% of the tech companies that have reported earnings so far have beaten expectations, compared to a US market average of 73%.
Companies that have done well include both "old" and "new" tech businesses. Among the old are companies such as Microsoft, which beat analyst expectations as it continues to grow its cloud business, and Apple. Of the newer firms that conduct most of their business online, Facebook beat expectations with its quarterly earnings, which were boosted by a jump in advertising revenue. However, Google parent Alphabet missed analyst estimates after it earned less from "pay per click" and saw costs increase.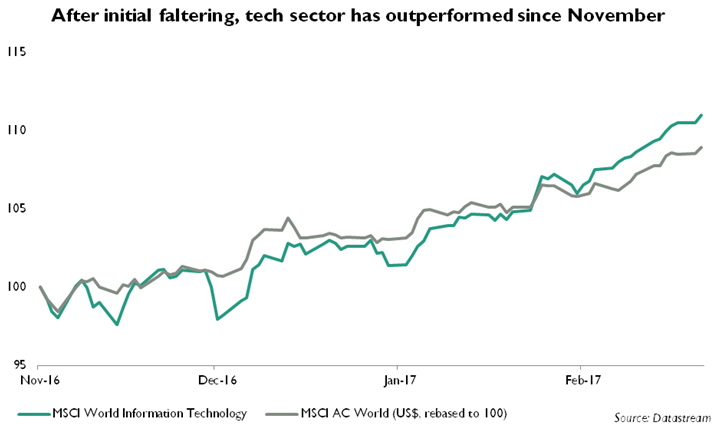 RAPID CHANGE
Technology is moving astoundingly quickly. The pace of change in the fields of artificial intelligence and renewable energy, for instance, can make it hard for investors to keep up. One of today's most talked-about concepts is the "internet of things" – connecting devices online. A popular example is the smart fridge, which can tell you when it is out of milk.
Another sector experiencing rapid growth is electric vehicles, where sales have rocketed in recent years. Increased demand for automatic features, such as assisted parking and driverless cars, are also contributing. Battery technology is a related area in which companies are competing to improve storage capacity, charging times and speed of delivering power.
Meanwhile, financial technology, popularly known as "fintech", poses a threat to traditional banking providers. This term is usually applied to the segment of the startup scene that is disrupting activities such as mobile payments, money transfers, loans, fundraising and even asset management.
One of the most potentially disrupting advances is alternative digital cash systems, such as Bitcoin. They use sophisticated blockchain technology, which is based on a public database that maintains a list of all transactions. This technology has the potential to transform the way in which the world records the ownership and transfer of all assets, with far-reaching implications.

INVESTMENT OPPORTUNITIES
Investing in companies in the global technology sector can provide exposure to some of these exciting emerging themes. The sector performed well in 2016, rising 14% against the S&P500's 12%. In spite of the gains, valuations remain attractive – the sector traders at 19 times earnings, broadly in line with the US market where it has historically traded at a premium.
Investors often rush to initial public offerings (IPOs), particularly of companies that are enjoying stellar growth. Yet sky-high valuations can vanish quickly when earnings fall short of expectations.
For example, Facebook's share price struggled for a year following its IPO in May 2012, although it has been climbing steadily since then. In contrast, Twitter's shares rose after its IPO in 2013 but then declined and are now substantially below the original listing price.
There has been a drought of tech IPOs over the past couple of years. One reason is the robust M&A market, where companies considering a public listing have sold privately. However, if stock market conditions remain stable in 2017, it could provide a positive backdrop. Snapchat is expected to float later this year, and other companies that could launch IPOs include Airbnb, Uber and Spotify.
Another way of gaining exposure to technology is through a specialist fund with the experience and expertise to spot developing trends early and to invest in those companies best placed to exploit them. This is a sector where the details matter. The ability to understand a company's products and those of its rivals can produce an investable edge.
Tech sector earnings are up 10.5% from the same quarter last year, compared to 5.4% growth from the S&P500 as a whole.
LOOKING AHEAD

We have been overweight US technology for a couple of years because the sector looked inexpensive by historical standards and has been growing strongly. Our views have not changed, partly because the performance of the sector has been driven largely by healthy cash flows. Analyst expectations for US tech companies in 2017 suggest earnings growth of 12%, the second highest growth rate of all US sectors.
The core secular growth themes include e-commerce, digital marketing, cyber security, cloud infrastructure, digital payments and games software. Other areas that could enjoy healthy growth include artificial intelligence and automation and robotics.
As far as risks go, we are watching for investor euphoria that might signal a bubble about to burst. Bloomberg has observed that 30% of the advertising slots at January's Super Bowl were taken by technology companies, just below the 35% share at the 2000 Super Bowl at the height of the dot com boom.
That note of caution aside, opportunities to invest in the technology sector should persist as companies reinvent industries, create new markets and empower customers. Innovation is also likely to have a profound impact on our economy and society as computers continue to replace routine work and expand to cover everyday tasks.