Emerging market debt is coming back into favour for yield-hungry investors as they seek to diversify away from poor-returning developed market bonds.
In the aftermath of the 2008-09 global financial crisis, investors shied away from riskier assets. While this was especially true for emerging market equities and alternatives, such as hedge funds, fixed income investments like high yield bonds and emerging market debt (EMD) also got the cold shoulder from investors. Challenging economic conditions for emerging markets meant the default rate on their debt climbed to around 11% and investors' nerves about getting their money back increased.
Since then, the economies of Brazil, Russia, Mexico and South Africa – all key players in EMD – have generally recovered. Many emerging markets have rebuilt foreign exchange reserves and because their currencies have been relatively weak, external deficits are fairly modest.
As a result of improving economic data, the average default rate for emerging market corporates, for example, is expected to fall to 2%, according to JP Morgan. In addition to better economic fundamentals, fewer Brazilian corporates are also defaulting on their debt. In the past, Latin American corporates have fared poorly in terms of honouring their debt repayments because their businesses have generally been tied to a weaker commodities picture.
The EMD investable universe is now worth about $15trn, compared to $2trn in 2000. More issuers have come to the market encouraged by cheap funding costs and a more liquid market. For example, one of the most recognisable investable indices for hard currency EMD, the JP Morgan EMBI Global Diversified Index, contains over 60 countries and 127 issuers.

Local Can Be The Real Deal
But what's the attraction of EMD for investors within the current environment of improving economies, both for developed and emerging markets, spiking inflation and rising interest rates?

Governments and companies issue bonds denominated in either 'hard' currencies, like US dollars or euros, or in local currencies, such as the Mexican peso or Brazilian real.
The strong dollar we've seen in recent years has been a big problem for issuers of dollar-denominated bonds – a market valued at $3trn, according to the Bank for International Settlements. Simply put, the higher the US dollar rises, the more expensive it becomes to pay back the debt.
But we believe that emerging market currencies are broadly undervalued both relative to a strong US dollar and in absolute terms. Here, cheap local currencies can represent the first building block for an opportunity to generate active returns.
Rates divergence
Over the last few years a number of central banks have implemented higher interest rates in order to cool rising inflation. As a result, many markets are now characterised by well-controlled inflation and interest rates that have room to decline.
For example, the main interest rate in Brazil increased from 7.25% in 2012 to a peak of 14.25% in 2016, but has been declining since and is now around 12%. The difference – or yield spread – between the interest rate paid to holders of Brazil's bonds compared to US Treasuries is currently 11%.

Well-controlled inflation allows EM central banks to cut rates and this is a positive for investors holding local currency bonds
In addition to undervalued currencies, why are high interest rates and controlled inflation important for emerging markets? There are two reasons.

Firstly, high interest rates increase the interest, or coupon, investors earn on that country's bonds. This is particularly attractive in the current environment in which developed markets are characterised by very low (though rising) interest rates where the interest or yield investors could earn there is much lower. Note that due to the undervalued currencies, this benefit is not entirely mitigated by exchange rates.
Secondly, controlled inflation allows central banks to cut rates and this is a positive for investors holding local currency bonds. Simply put, falling rates would (all else being equal) result in higher bond valuations/capital appreciation. Again this is in contrast with the developed world where interest rates are on an upward path, as we have seen in the US in recent months.
Strong dollar creates doubts
Set against a positive backdrop of attractive demographics, improving economics and healthier current accounts, there remain a number of challenges for issuers of EMD – whether based in hard or local currency.
Donald Trump's surprise victory in the US presidential election and Federal Reserve rate hikes in December 2016 and March this year resulted in investments flowing out of emerging markets and into US dollar assets. The Mexican peso has been particularly hard hit by this trade and the performance of its local currency-denominated bonds has suffered.
A weak environment for commodity prices has also weighed on the asset class in recent years. For instance, oil, gold and copper prices have all dipped in the last five years as demand has waned while supply has either stayed still or, in the case of oil, actually increased.
Positive fundamentals
Seizing on investment opportunities within local currency debt is consistent with Coutts view for the asset class more generally. We expect emerging market exports to benefit from ongoing strong growth in the US and other developed markets. We also believe the economic health of countries should continue to support total return prospects because of those currency/coupon drivers mentioned earlier.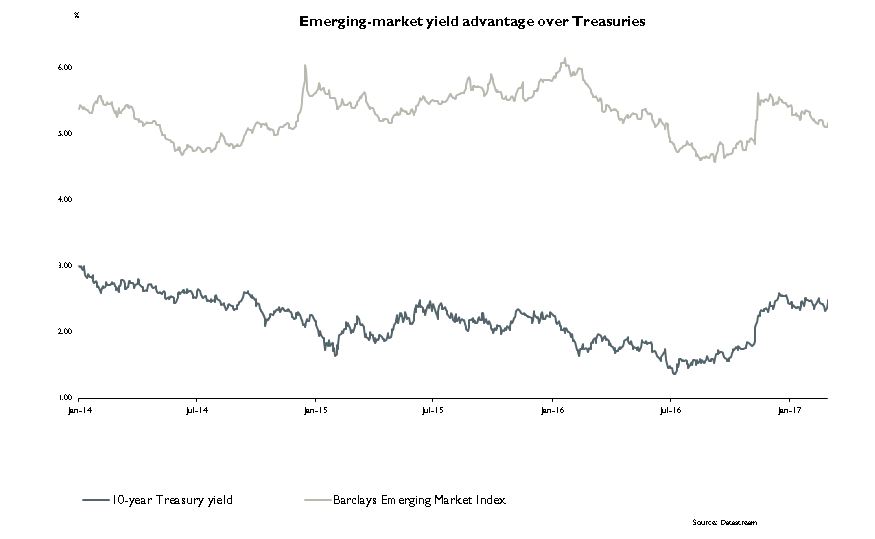 On performance, a quick comparison finds local currency bonds returned 5.2% year to date compared to 2.3% for US high yield corporate bonds and 0.71% for US Treasuries*.
Notwithstanding EMD's big challenges, we maintain our view that it represents an attractive opportunity and in line with our principles of investing in undervalued markets which can offer positive diversification benefits for portfolios.
*Current performance is not a guide to future performance. The Credit Suisse EM local currency index total return was 5.17%, compared to 2.58% for the USD High Yield Corporate Bond Index and 0.71% for US Treasury Bond Index. All Bloomberg data as of March 27 2017 is expressed in US dollars.
Equities
Investment
Economy
Insight
Lending
Emerging Markets
Bonds
Investments

08 Apr 2020

Our latest quarterly investment update looks at how the coronavirus outbreak is reshaping the economic landscape

03 Apr 2020

In the second of our articles on what impact the coronavirus might have on the economy, investments and business, Alan Higgins, Coutts UK chief investment officer, considers how a sudden rise in the use of telemedicine, robots and AI could shift consumer behaviour.

Insight
Trust
Philanthropy
Family
Charity

03 Apr 2020

If you'd like to use your extra time at home during the coronavirus lockdown to support people and causes impacted by the pandemic, our philanthropy team has some useful suggestions.