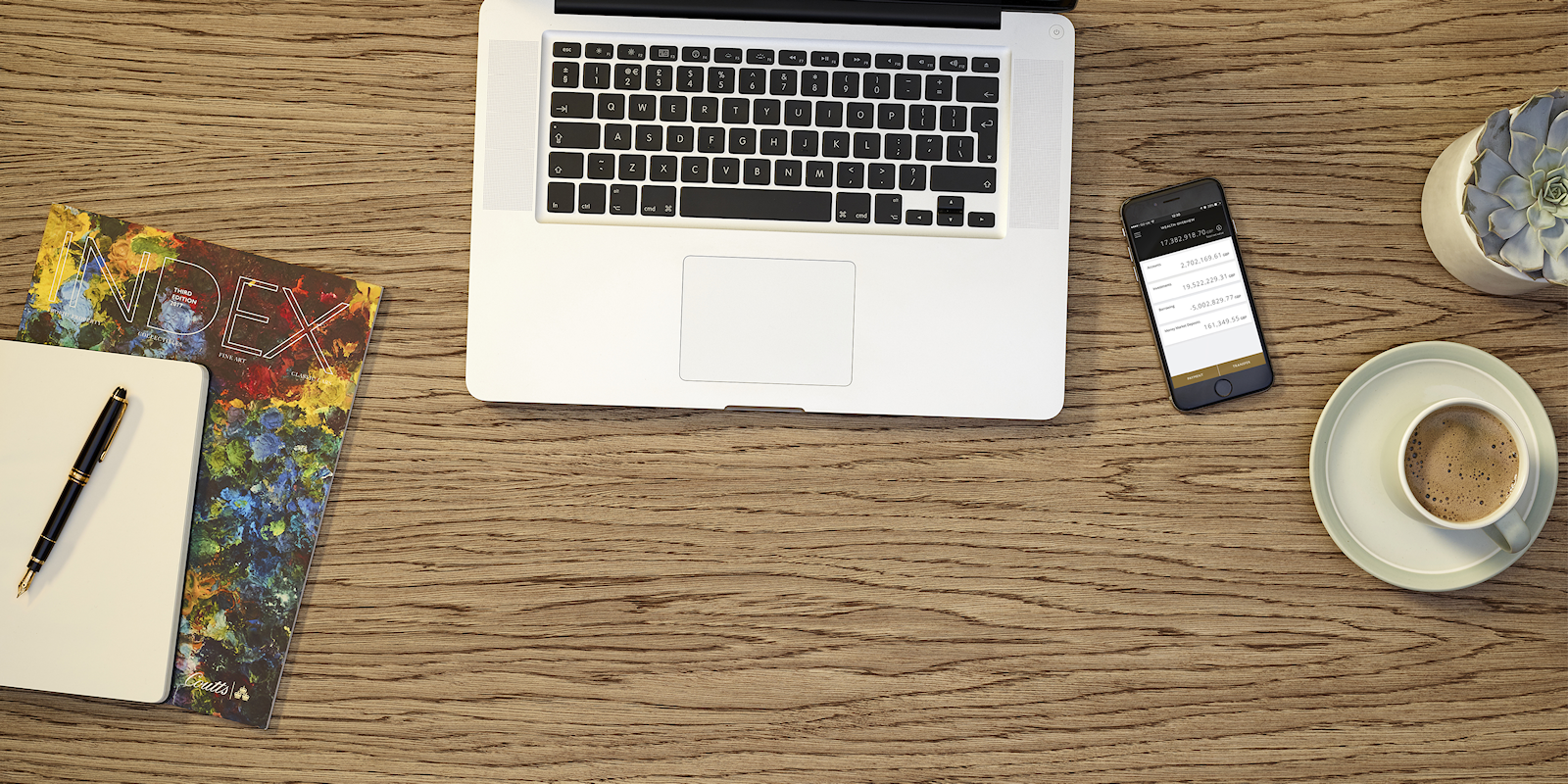 Coutts Passion Index 2017
Coutts Index 2017 tracks the changing values of 'passion' assets
6 min
read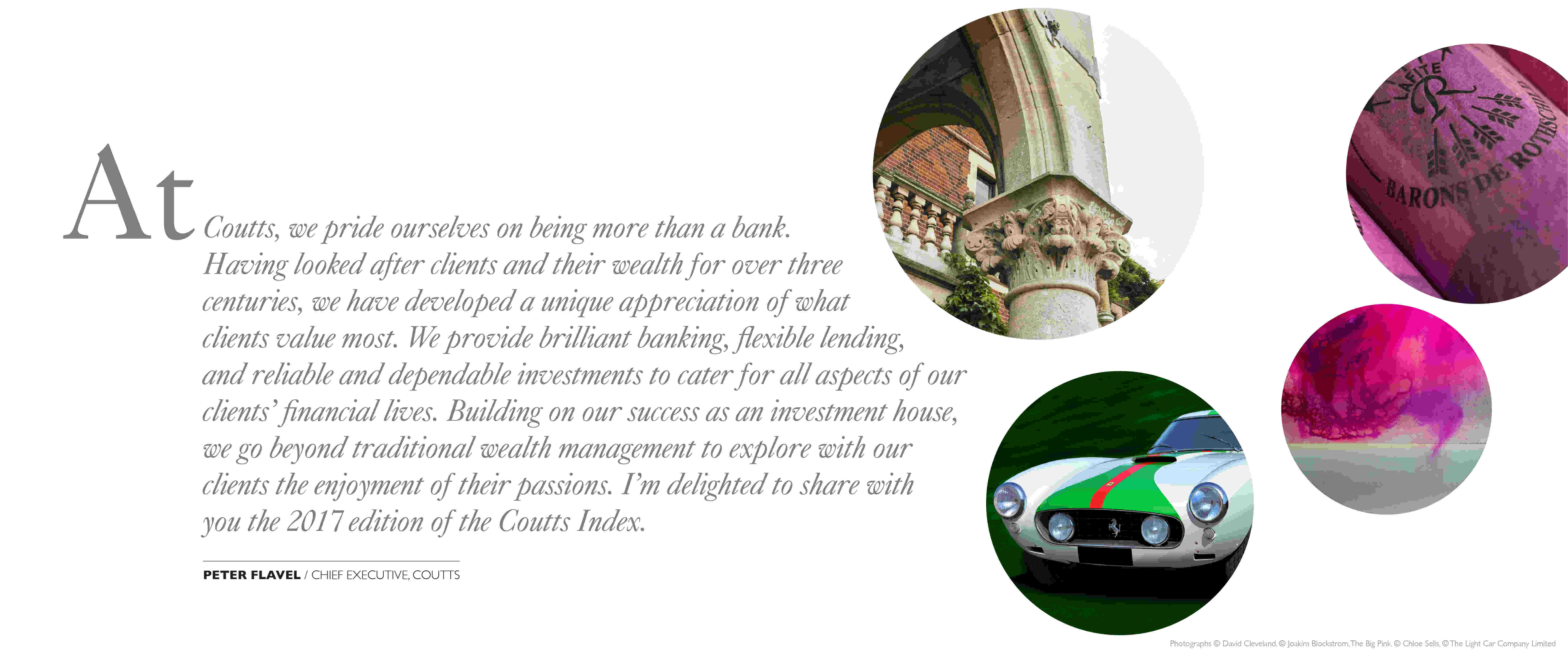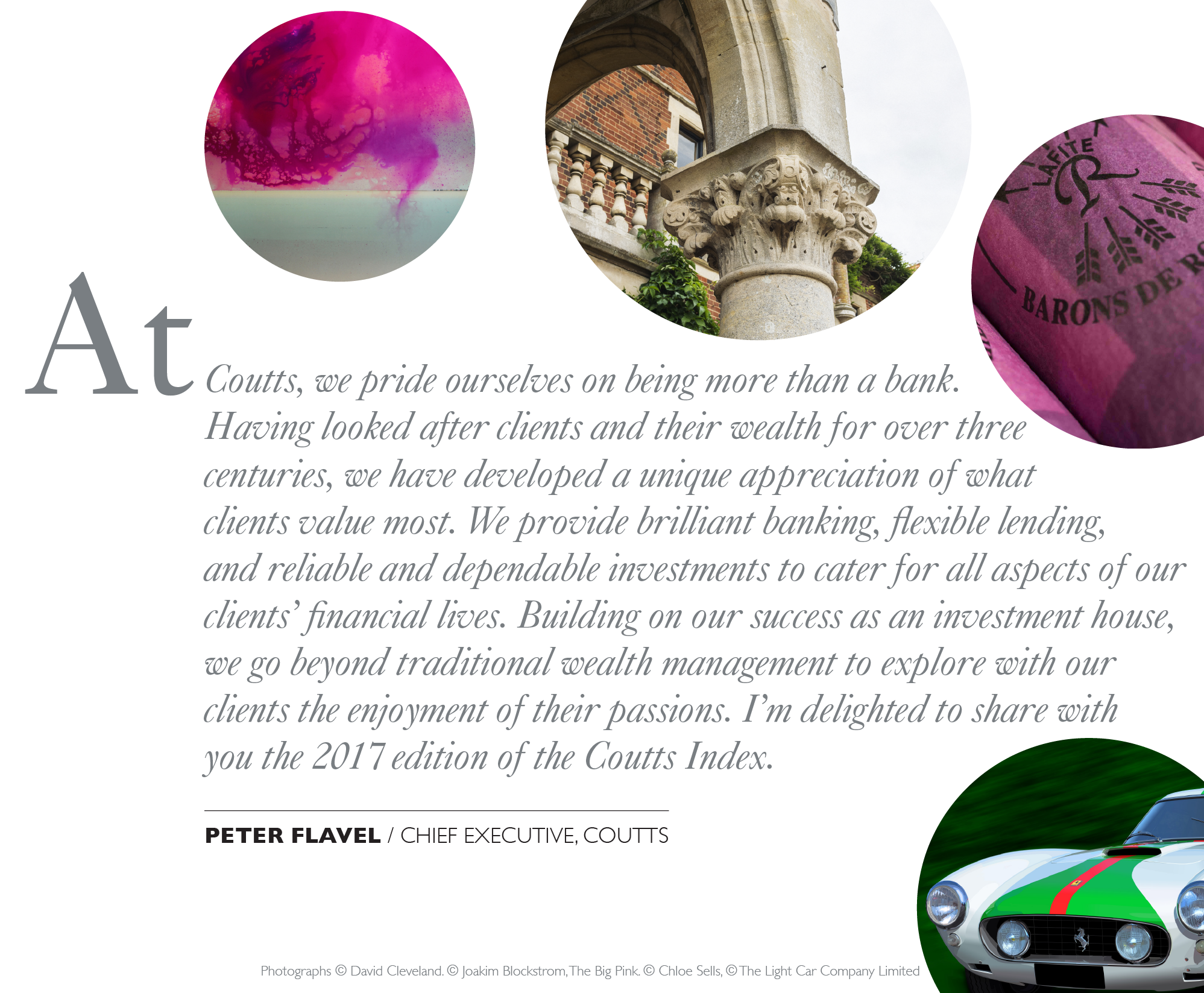 The Coutts Index offers a unique insight into the market for what we call 'passion' assets. Our bespoke research endeavours to capture the changing values of assets that reflect the diverse interests of our clients, including fine wine, fine art, luxury properties and classic cars.

In 2016, we have seen the index rise by 1.2% – putting the increase since it started back in 2005 at 76.6%. Rare musical instruments have taken top place in the index this year, rising by 16.4%, while classic cars have seen the largest fall at -10.4%. Despite this, cars have gained the most across the index categories since 2005, increasing fourfold over the 12 years represented by the data.
At Coutts, we understand that wealth is not just a goal. It is a means, a medium through which you can articulate a way of living that expresses your passion for life. If you'd like to understand more about how we can help to do this, I invite you to contact us either directly or through your private banker to explore how we can work with you and your family.
Mohammad Kamal Syed
Managing Director, Coutts
Classic cars have provided the healthiest returns since 2005, with average prices rising more than fourfold. However, after increasing rapidly in 2013 and 2014, price returns for Classic Cars fell in both 2015 and 2016. Coins remains the only category to have registered increasing prices in every year since 2005, rising more than 11% per annum on average. Following four years of contraction, Fine Wines registered strong price growth of nearly 10% in 2016.


Average prices for Rare Musical Instruments have been volatile. A fall of nearly 11% in 2015 was followed by an increase of over 16% in 2016, the fastest growth in any category last year. Prices for Rugs and Carpets are also volatile. Falling prices in 2015-2016 mean this is one of only two categories for which prices are currently below their 2005 level.

CHAPTER 02

Precious Items

On average, price returns for Jewellery have outstripped those for Classic Watches. Indeed, while Classic Watch prices have recovered in recent years to stand at over double their 2005 level, they remain 10% lower than their 2012 peak.

Jewellery reached a new high in 2016 growing nearly 12% on a year earlier and up 150% since 2005. Some outliers were excluded in 2016, notably, the De Beers Millennium Jewel 4, which sold for US$32m in Hong Kong last year – a record for a jewel sold in Asia.

The Fine Art category is based on the Sotheby's Mei Moses Art Indices®, adjusted for holding costs by Fathom.

All categories suffered price falls last year, contributing to a 6% reduction on average for Fine Art. While this is consistent with the trend in recent years, there have been considerable variations across the categories.

The value of Traditional Chinese Works of Art has fluctuated but this is the only category for which prices have risen significantly since the financial crisis, increasing an impressive 70% since 2008. The worst performer by some margin is Old Master and 19th Century Art. Despite increasing in some years, prices are down by more than 40% since 2008 making it the worst performer of all categories in the index.

CHAPTER 04

Trophy Property

Trophy Property measures the changing value of properties in the ten prime global city locations, over two classes of property:

Billionaire Property – primary homes owned by ultra-high net worth individuals, typically valued at £10m and above.
Leisure Property – second houses or holiday homes located in selected leisure destinations readily accessible from the base cities.

Billionaire Property prices grew rapidly from 2008 to 2012, increasing nearly 40%, but have since risen less than 6% and increased less than 2% last year. Prices of Leisure Property have generally seen smaller increases, rising around 20% since 2008, but have been very consistent, growing close to 1.5% in each of the past three years.

Looking closer at Billionaire Properties, returns from the 'New World' (Hong Kong, Moscow, Mumbai, Shanghai and Singapore) rose faster before the recession and fell to a greater extent in 2008 than those in the 'Old World' (London, New York, Paris, Sydney and Tokyo). Since 2008 prices in both categories have similarly rebounded by around 40%. However, the 'Old World' has seen steadier growth in recent years returning over 4% in 2016 while the 'New World' saw values decrease by nearly 2%.
Key Takeaways
The Coutts Index tracks the changing value of 'passion' assets such as Fine Wine, Classic Cars, Jewellery, Fine Art and Trophy Property. 2016 saw a modest increase in the index of 1.2%, compared to an average annual increase of 5.3%, while the index has returned 76.6% since it was founded in 2005.

About Coutts investments
With unstinting focus on client objectives and capital preservation, Coutts Investments provide high-touch investment expertise that centres on diversified solutions and a service-led approach to portfolio management.
Discover more about Coutts investments