Coutts Luxury Price Index Lifts The Lid On Rising Price Pressures
Summary
Our new research finds that, in the last year, luxury goods and services came with higher inflation than more mainstream products.
3 min
read
Detailed analysis of the rapidly rising prices of luxury goods and services is now available for clients to access via their private banker.

The Coutts Luxury Price Index (CLPI) gives a meticulously researched, accurate measure of the effects of inflation on high-end items and experiences.
While it does not show the overall inflation rate faced by wealthy consumers, it complements the UK Consumer Price Index (CPI) to reflect the luxury portion of their spending.
Our research suggests that, if half a person's spending goes towards luxury and half on everyday items, their personal rate of inflation for the year to May 2017 would be 4.6% – half way between the CPI and CLPI indices. Even if people are only buying the occasional luxury this still has an impact over time.
Higher luxury inflation has various causes, not least that luxury goods and services are, by their very nature, in short supply. This alone tends to push prices up much faster than those of mainstream products.
One of the main drivers of inflation in the CLPI for 2016/17 has been the sharp fall in the value of sterling, which had a knock-on effect on the cost of travel and overseas holidays. Top-end transport and recreation prices, which have a big weighting in the index, rose by 8-9%.
Conversely, the rate was moderated by lower inflation rates across clothing and footwear and falling prices in the prime property market, both heavily weighted sectors. Property prices have been affected by post-Brexit uncertainties and stamp duty land tax reforms that have discouraged buyers in recent months.
In our video, Dr Terence Moll, Head of Investment Strategy, who led on the research, and Warren Thompson, Managing Director, International and Private Office, discuss the report.

Become A Client
When you become a client of Coutts, you will be part of an exclusive network.

Read More
The largest price rises came in the communication sector, which includes high-end smartphones, but this only makes up a small proportion of the index.
The methodology used for the research, underpinned by our extensive data and unrivalled expertise, has been independently verified. It uses entirely proprietary data and is based on actual spending. Our unparalleled view of the spending habits of our clients and their lifestyles has informed the basket of products included and the weight ascribed to them.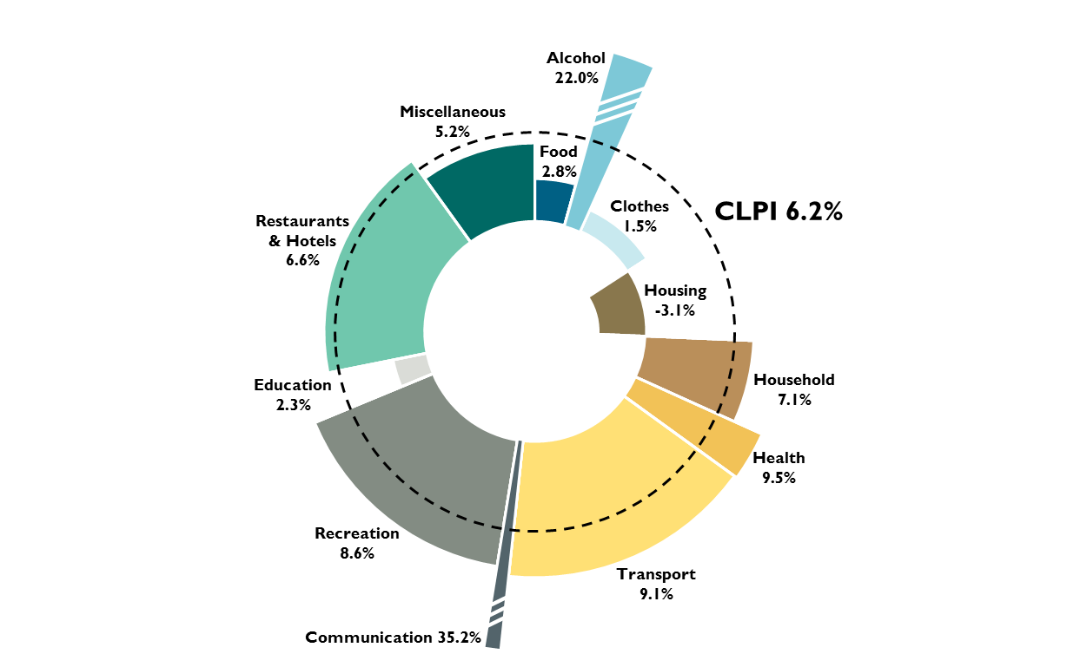 Transport, recreation and alcohol were key drivers of luxury inflation over 2016/17
Source: Coutts & Co
The CLPI stands apart from many other unofficial inflation indices, which are less scientific and based on less complete data sets.
As this research shows, people spending extensively on luxury goods will experience different inflationary pressures than those represented by the CPI. It makes sense for them to work harder to protect their spending power.
If you would like a more in-depth breakdown of the CLPI's findings, or want to discuss how we might help you factor them into your financial planning, contact your private banker

Key Takeaways
Inflation on luxury goods and services has risen more than twice as much as the mainstream market. The new Coutts Luxury Price Index analyses this trend and examines the key drivers behind it.

About Coutts investments
With unstinting focus on client objectives and capital preservation, Coutts Investments provide high-touch investment expertise that centres on diversified solutions and a service-led approach to portfolio management.
Discover more about Coutts investments