Consumer Squeeze Puts UK Equity Under Pressure
Summary
This week's UK economic data points to slowing retail sales and falling real wages, which could impact UK companies
3 min
read
This week saw some relief for UK consumers as the pincer movement of high inflation and low wage growth eased a little. However, retail sales show that consumers are feeling the pinch after a prolonged period of declining real wages which could have a knock-on effect for UK equities.
Working more, earning less
UK inflation rose sharply after the EU referendum result, when sterling fell against other currencies. Rising as high as 2.9% in May – compared to 0.3% the year before – it eased to 2.6% in June and, while most commentators were expecting it to rise again in July, this week's release shows it steady at 2.6%.
Meanwhile, wages have not been keeping pace. Employment data has been strong for a while, and this week's Employment Report showed unemployment at its lowest for 42 years. However, wage growth has not risen in response.
While this week's earnings data was slightly stronger than expected, rising 2.1% in June compared to the year before, earnings growth is still well below the level of inflation. Over time, prices are rising more quickly than the value of the money in people's pay packets.
It's not surprising, therefore, to see retail sales weakening. This trend became apparent last autumn, as inflation began taking off. Retail sales growth declined sharply in October and November, and now seems stuck in a lower range than this time last year. The latest figures show the rate of growth has fallen, as expected, suggesting that consumers are feeling the pinch.
Of course, these gross figures will be different for individuals. Some will have seen their earnings rise as they are promoted or change jobs, while others will experience potentially higher rises in their cost of living depending on their spending patterns, as we have seen from the Coutts Luxury Price Index.

Become A Client
When you become a client of Coutts, you will be part of an exclusive network.

Read More
What this means for UK plc
The squeeze is bad news for consumers, but also has the potential to impact investors. Most obviously, falling retail sales would hit the top line of the retail sector, but a consumer slowdown has the potential to reach into manufacturing and distribution, while pressure on family budgets could also see higher levels of borrowing and defaults in loans, hitting domestic financials.
Headline retail sales data released this week beat expectations, with sales rising by 0.3% over the previous month, against an expected 0.2%, suggesting that consumers are content for now.
Beneath the headline data, though, is evidence of consumer weakness: food and household goods was the only sector which saw an increase in sales (up 1.5%) while all other categories saw sales fall.
This suggests that consumers are starting to think more carefully about how they spend. They're still spending on the day-to-day items, but they may be more cautious about spending elsewhere.
This effect may become more pronounced in the coming months if the squeeze on earnings continues as we believe there is a lag between the data and the time when consumers begin to feel it hitting their pockets.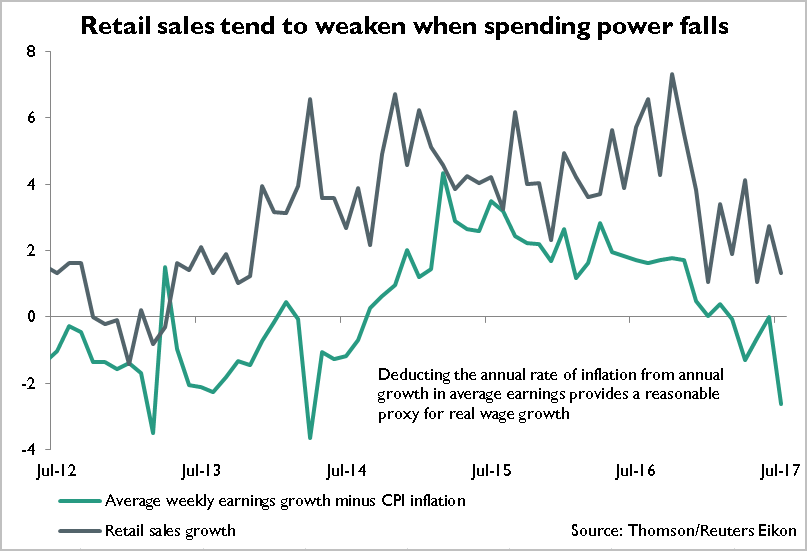 Markets resilient – so far
This could be bad news for companies focused on the UK domestic economy. Companies relying on UK consumers and their supply chains could see profits suffer while consumers are counting their pennies.
By contrast, companies focused on the growing global economy should do relatively better. The weakness of sterling that's hitting consumers has actually benefited these companies, making their overseas earnings more valuable in sterling terms.
So far this year UK markets have performed well. The FTSE 100 has hit a series of record highs since the start of the year, which included breaking through 7,500 in May, largely thanks to the sterling effect on earnings. The more domestically focused FTSE 250 has also risen to a record high this year and outperformed the FTSE 100 over the first six months. This mid-cap index has a higher weighting to industrials and technology stocks, which performed better in the first half, and a smaller weighting to energy and materials, which have underperformed.
UK equity is an important part of our client portfolios. We have a broadly neutral allocation, using a mix of active and passive managers. Our holdings are predominantly large businesses with international revenue streams, and performance has benefitted from sterling weakness.
We also have holdings in UK small and medium sized businesses where performance is more linked to the UK economy. In this case, we look for companies that display above average growth and have quality characteristics and which are more likely to outperform if UK economic conditions begin to have an impact on markets.
Key Takeaways
Falling real wages are hitting consumers in the pocket. Weaker consumer spending could have a depressive effect on UK equity as lower consumption makes its way through the food chain. We are focusing on quality holdings in the UK that will be better able to endure economic weakness.

About Coutts investments
With unstinting focus on client objectives and capital preservation, Coutts Investments provide high-touch investment expertise that centres on diversified solutions and a service-led approach to portfolio management. Our investment process is as disciplined as it is creative – ensuring tailored solutions with robust results.
Discover more about Coutts investments