As the British electorate prepares to go to the polls, our view that global economic growth will support equities and corporate credit remains unchanged.

Global economy remains key
While the outcome of the general election is important, it is also worth remembering that the UK economy is only a small part of the wider world economy. As we observed in the run-ups to the referendum on EU membership and the US Presidential election, politics and political events rarely drive long-term market returns.
At Coutts we don't try to guess election results. In line with our investment principles, we take a measured view of macroeconomiccs and corporate fundamentals to inform our investment decisions
The economic outlook

We see a growing global economy, supported by a robust US, driving demand from producer nations, particularly in the developed world. In the UK, growth remains positive, despite uncertainties around the outcome of Brexit negotiations. The Bank of England policy remains supportive of markets, and rising inflation will moderate as the short-term effect of the fall in sterling works through the system.
We don't see the UK general election result as having a profound effect on economic growth, either globally or in the UK. All parties have put forward plans which, if successful, could promote economic growth in the UK, but will depend on the final shape of parliament and political will for success.
Continued global growth supports equities and higher yielding credit over lower risk assets, particular government bonds.

UK economic growth remains positive despite uncertainties around Brexit.

The Bank of England policy remains supportive of markets with the rise in inflation moderating as the short-term effect of the fall in sterling works through the system.
We see no reason to change our current base-case scenario: ongoing global economic growth supporting risk assets and safe haven bonds offering low returns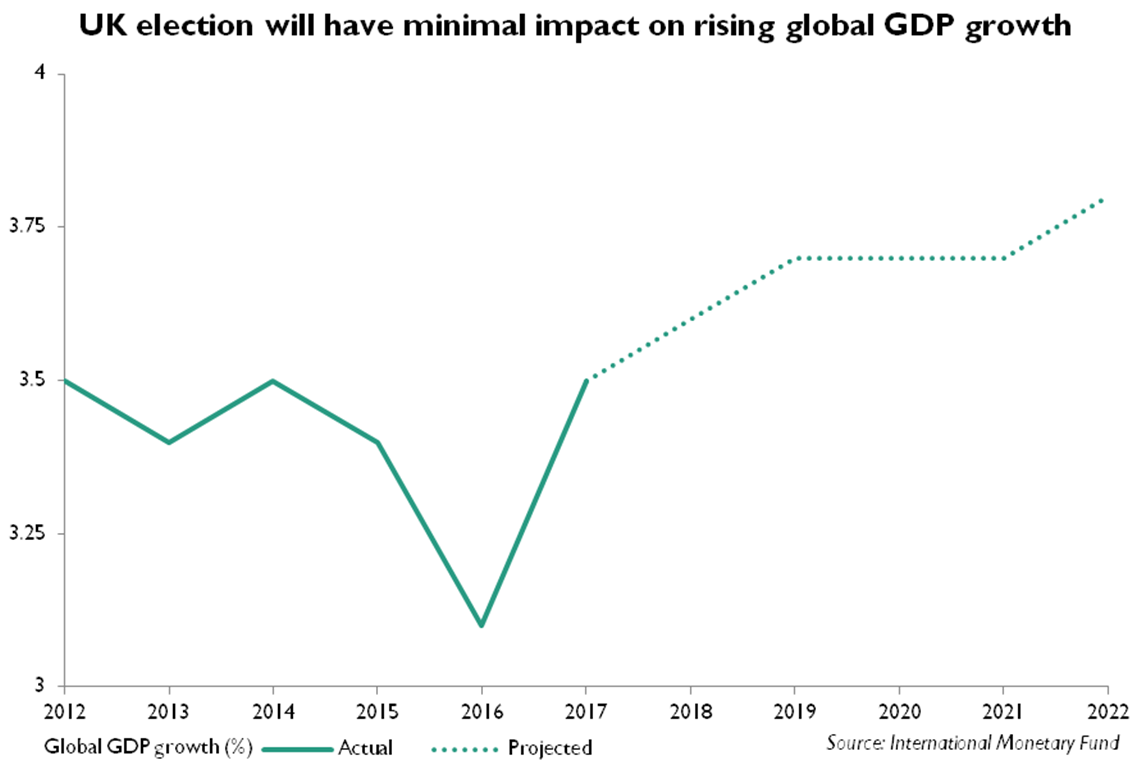 Brexit
We believe that both the UK and Europe will seek a deal that is economically beneficial to both parties. While we may see some combative rhetoric on both sides of the table, we believe the final deal will maintain favourable trade relations in some shape or form.
A large majority for the party would strengthen Theresa May's hand when taking a Brexit deal to parliament.

A whole five-year parliamentary term will also allow a transitional period that can run through before the country goes to the polls again in a general election.

The party has struck a more conciliatory tone around Brexit but we do not think that a Labour-negotiated deal would be very different from what the Conservatives would do.
Equities
The outlook for global equities continues to be positive in our view, supported by a strong US economy and upward revisions to forecasts for global growth from the International Monetary Fund.
In our view, economic and corporate fundamentals will continue to support our long-term investment case for equities over bonds whichever way the result goes. In line with our investment principles, Coutts globally diversified portfolios and funds are designed to soften localised market volatility of the sort we may see in the case of an unexpected Labour victory.
A sizeable Conservative victory is seen as the most likely result and would have limited impact having been largely priced-in by equity markets.

Markets don't like surprises and so a Labour victory could see UK equities dip in the short-term, creating potential buying opportunities.

As investors establish confidence in the government we would expect to see markets return to their current trend.
Bonds
Although bonds have attractive diversification qualities, we are cautious on government bonds, believing long-term returns could be poor and vulnerable to rising interest rates and inflation. We believe rates will remain low in the UK for some time although we do expect the emergency Brexit rate cut to be reversed at some point. We favour corporate bonds, including high yield, which can provide attractive yields relative to government debt in an environment of low-default rates.
As with equities, bond markets are expecting a Conservative victory and are unlikely to move much on the result.

Coutts portfolios will remain underweight government and overweight high yield credit and emergng market bonds.

A Labour victory is likely to see bond yields fall (prices rise) as investors could look to safe-havens.

Government bonds are therefore likely to become even more expensive and remain unattractive.

Markets tend to over-estimate default risk in the case of political surprises and the result could bring buying opportunities in corporate credit and high yield.

On the whole, the result would see no significant change in our view.
Sterling

We see sterling as cheap by historical standards following the fall in value relative to other currencies after the EU referendum. We've taken profits in some of our non-sterling dominated holdings and increased our exposure to sterling denominated assets. We believe that these will increase in value as sterling trends back towards its historical mean.
Whichever party forms the government after the election we believe this trend would continue, although it may take longer under a Labour government.

We don't expect any substantial change in sterling.

We may see a modest rise in the repsonse to the decline in political uncertainty if the Conservatives are returned with a substantial majority.

This would be a surprise for markets based on current sentiment and we would expect to see some short term volatility in the value of sterling in response.

We still believe sterling will normalise over the long term.
Basing decisions on fundamental data, not a crystal ball
Just in case we needed the lesson, the last 12 months have provided all the schooling we needed on the unpredictability of politics. At Coutts we don't try to guess election results. Instead, in line with our investment principles, we take a measured view of macroeconomic and corporate fundamentals and develop our investment views from there.
In this case we see no reason to change our current base-case scenario. This suggests ongoing global economic growth supporting risk assets, and safe haven bonds offering low returns. Should this change we will review our portfolios to make sure we're protecting client assets in accordance with changed circumstances.
Insight
Coutts Investments

26 May 2017

25 May 2017

Coutts Regional Chairman for Norfolk and Suffolk, David Sheepshanks, is also a successful business coach

Insight
Coutts Investments
Property

24 May 2017

The performance across the country homes market is patchy but buyers overall remain very price sensitive, particularly at the top-end, as they continue to adjust to higher purchase costs.