100% For Mission
Summary
One of the most exciting and growing trends in philanthropy is how charitable trusts and foundations are looking to align their mission with decisions about the management of their endowments
5 min
read
How can you best deploy your assets to reflect your mission and your values? This is a question that a growing number of philanthropists have addressed in the insights they share with us for the Coutts Million Dollar Donors Report. Through these interviews with major donors, and the conversations we are having with clients and their families, we see a number of trends in how wealthy individuals and families are grappling with this opportunity.

A Powerful force for good – Mission-based investment for charity endowments

One of the most exciting and growing trends in philanthropy is how charitable trusts and foundations are looking to align their mission with decisions about the management of their endowments, as highlighted in the interview with Stephen Heinz of the Rockefeller Brothers Fund.
"More people are beginning to feel constrained by grant-making that accounts for only 5% of financial assets", notes Mr Heinz, "and they are increasingly thinking about how to deploy the other 95% [the endowment] in a way that preserves the corpus and generates the income for grant-making, but also in a way that advances mission. It's a powerful new force in philanthropy".
In recent years we've seen this trend manifest itself in a number of practical ways. There are certainly a growing number of foundations who are seeking to incorporate environmental, social, and governance (ESG) or ethical decisions in how they invest their endowments. This may involve adopting many of the principles that underpin responsible investment in the interest of mitigating risk and improving long-term sustainable returns.
Some have also chosen to screen out companies that conflict with the mission or values of the foundation. As Mr Heinz explains, "…given the scale of the grants we give in the field of climate change, we became increasingly uncomfortable that while we were trying to solve the climate crisis through our grant-making, we remained invested [through our endowment] in the companies that were producing the greenhouse gases that are causing the climate crisis. It began to be morally very uncomfortable – it was like we were funding research on lung cancer and investing in tobacco companies. So we started a very complex dialogue with our key stakeholders about the proposal that we would divest from fossil fuels."
Other donors interviewed in the Million Dollar Donors Report who share similar ambitions include:
Dr Frederick Mulder CBE, who has focused on climate change, inequality and the persistence of global poverty, and The Cordes Foundation, who seek to support enterprising leadership, advance women's rights and address poverty.
Our interviews with major donors also illustrate the growing interest in social investment – also known as 'impact investing' – which essentially means deploying capital to generate social and/or environmental returns as well as financial returns.
For example, Sir Harvey McGrath, philanthropist and Chair of Big Society Capital (an independent financial institution, established with funding from a number of banks including RBS to help grow social investment in the UK), said in his interview "…although it's not universally applicable [only some charities and social enterprises can take on repayable funding], social investment is a potentially powerful piece of the puzzle" and is "arguably more effective when coupled with grant-making, depending on the stage of development of the charity and the nature of the intervention being funded".
Aligning mission or values with business interests or personal wealth
In addition to considering how mission or values can influence how the endowments of private charitable trusts and foundations are invested, some business owners, including family businesses, are actively considering the social or environmental impacts of their business interests.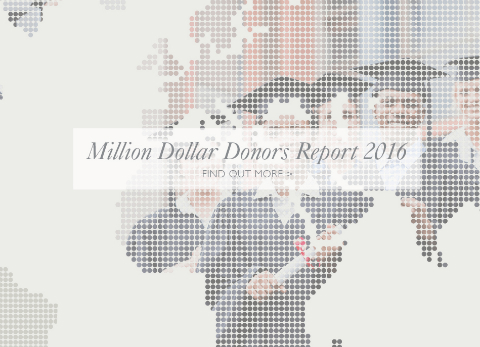 Coutts Million Dollar Donors Report
Celebrating and inspiring philanthropy around the world
André Hoffmann, Vice Chairman of Roche Holdings and President of the MAVA Foundation, for example, states in his interview: "The question is not how you use your business to finance your philanthropy, but how to use your business presence to improve the outcomes you want to see. It is not about how you spend money, it is about how you make the money. For me, there is a very important correlation there – how can I sit on the boards of three quoted companies while at the same time [through philanthropy] try to repair the damage caused by the existing business model?"
"Our own family business is trying, in a deliberate manner, to be net contributors to society," Mr Hoffman goes on to say. "Giving something back is not driven by a sense of guilt, but it allows us to build stronger, more resilient companies who are going to foster intergenerational, inclusive growth. We are a family business, and I want it to exist in the future so that my children can get involved. Therefore, today I need to think in a sustainable manner. … The blending of business and philanthropy interests is something we will see a lot more of I think."
In our interview with the F.B. Heron Foundation it was noted that, "Having 100% of capital in play for mission means that everything – all forms of capital (not just money) – that we either possess or can access are in play for mission. Social capital, relationship capital, [and] intellectual capital etc." This quote brings to life some of the broader conversations we have with clients and their families about the meaning and purpose of their wealth, and how their assets – which may include personal wealth, philanthropy, business interests, skills and networks – can all be deployed to reflect their mission and values.
To explore further how you might align your mission or values with the management and deployment of your wealth, and our comprehensive services for philanthropists, including the award winning Coutts Institute, and charity investment and trust services, please contact your Private Banker.
Key Takeaways
Through the Coutts Million Dollar Donors Report interviews with major donors, and the conversations we are having with clients and their families, we see a number of trends in how wealthy individuals and families are grappling with the opportunity of deploying their assets in a way that reflects their mission and values.

About Coutts Institute
We understand that wealth means more than money. The Coutts Institute focuses on the governance of wealth - helping family businesses succeed, helping clients fulfil ambitions for their philanthropy, and preparing the next generation for inheritance.
DISCOVER MORE ABOUT Coutts INSTITUTE